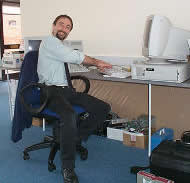 Profile.
We are a systems house focusing on application solutions in Automation and Control Engineering projects. We handle bespoke/turn-key projects as well as part-project and maintenance/repair on shop-floor automation and control equipment. This covers quite a wide range of machinery and equipment in the shape of PLC and DCS control systems, CNC configuration and networking, SCADA (Shop-floor Control And Data Aquisition), and intranet/internet solutions (including remote diagnostics and maintenance).
Mission Statement

To provide high-quality design and implementation of automation projects.

Scope

We will look at any project from a call-out for a broken down machine to full turn-key projects. We can offer project engineering, panel design and build, software design and coding, and installation and commissioning expertise. We have experience with most controllers and control systems with respect to shop-floor automation and control equipment. Contracts are flexible (hourly, weekly rates and fixed price contracts).

Quality

Quality can be measured by the approach taken while delivering projects. A quality job is achieved when the customer ends up with the right solution in the right timeframe. To help ensure this we work to IEEE wiring regulations and our software and project management follow ISO 9001 guidelines, though we are not certified yet. We work to a Quality manual and procedures.

Engineer Profile

Martin Wiltshire is formally educated with a BSc in Technology with Industrial Studies. He has worked in the control and automation industry since he graduated from University in 1986. He has pursued ongoing academic study with the Open University. Martin used to work at Simon Automation Ltd (Systems House - mostly Siemens and Allan Bradley), Groupe Schneider (Square D, Telemecanique and Modicon) and Data Network Controls Ltd (CNC service/repair and upgrade - mostly GE Fanuc). He is a full member of the IEE.

www.iee.org

Support Staff Profile

Begoņa Diez is formally educated with a BA in Culture and Media Studies (University of the West of England). She has worked in various industries, including education. Her role in the company is in support of the engineering commitments, including documentation in Spanish.

Location

We are based in Swindon (Wiltshire) with easy access to London one side and Bristol the other along the M4. We are at most 3 hours away from anywhere in the UK south of the Humber.

Member of the Federation of Small Businesses